Local TV: Evening Standard's ESTV wins London licence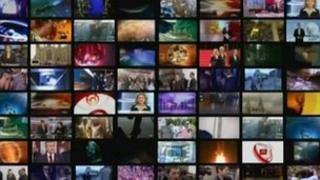 The Evening Standard has won the licence for London's local TV channel.
ESTV fought off four other bids to secure the rights to broadcast to about four million homes, the largest reach of all the new local TV services.
It is hoped London Live will be broadcasting news, current affairs, entertainment, weather and sport on Freeview by the end of the year.
Media regulator Ofcom said ESTV's bid showed the greatest understanding of London's diverse communities.
Ofcom received 57 bids to run the new US-style local TV stations across the UK.
Diverse communities
The media regulator initially invited operators to submit their applications covering 21 areas in May. However, as no bidders came forward in Swansea or Plymouth, only 19 licences will be awarded.
The bids were based on a set of criteria including the provision of local news and current affairs, programme proposals, launch date and commercial viability.
Ofcom's Broadcast Licensing Committee (BLC) said ESTV's application demonstrated a detailed understanding and knowledge of the needs of the London coverage area.
The BLC said ESTV showed, over and above the other bids, the greatest understanding of London's diverse communities.
It said it had put forward proposals which would allow representation of those communities whilst not excluding others as a result.
The bid covered a significant range of subjects and would therefore meet the needs of local communities to the greatest extent, it said.
ESTV's proposals also provided important opportunities for close local community involvement and it was in a particularly strong position to launch and maintain the proposed service, the BLC report said.