G4S and Locog 'close to' Olympics compensation deal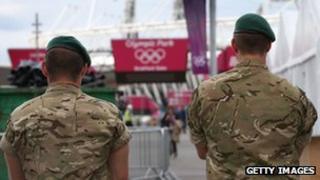 The firm that failed to provide enough security guards for London 2012 is close to reaching a deal for compensation with the organising committee, the BBC has learnt.
Security firm G4S was heavily criticised after it failed to deliver 10,400 security guards in time for the Games last summer.
In December, it admitted that the Olympic contract had cost it £50m.
About 3,500 extra troops had to be deployed during the Games.
The company's contract was worth £284m and included the supply of security guards for 100 Olympic sites across the country.
However the company was unable to recruit enough people in time.
'Pay for mistakes'
Adrian Warner, BBC London's sports news correspondent, said negotiations on how much G4S would cut from its £284m bill had been taking place for two months.
He said he understood at least £50m would be deducted, covering £36m for the extra troops, and £6m for extra police officers.
Keith Vaz, chairman of the Home Affairs Select Committee, said he thought G4S should forgo its £57m management fee.
"G4S have got to pay for the mistakes they have made, all the money from the cost to police, the army and give up the £57m management fee," he said.
Locog said the negotiations had not been completed.
The details of any agreement are expected in the next two weeks.