Lakanal inquest: Firefighter describes 'blast furnace'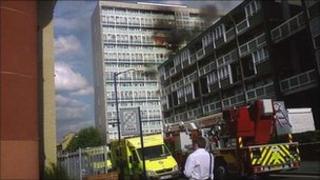 A firefighter who helped tackle a London tower block blaze which killed six people has described how he went up in a platform to comfort a family who had fled on to their balcony.
Conditions in the cage of the platform were like a "blast furnace", crew manager Daniel Sharpe told an inquest.
The fire broke out at Lakanal House, Camberwell, south-east London, in July 2009.
Mr Sharpe said: "I remember debris coming down and igniting."
The firefighter told jurors at Lambeth Town Hall that he told a colleague to direct a jet of water at a fire on the west side of the building.
He said: "I remember a large noise coming from the eastern side - shouts were going up that people might jump.
'Lot of heat'
"We went round there and noticed a gentleman standing precariously on a balcony with what looked like knotted sheets."
Mr Sharpe was lifted up in the cage with another fire officer to reassure the family on the balcony that help was on the way. They stayed there until they were rescued.
Asked what conditions were like on the platform, he said: "There were high winds, pushing it all over the place.
"One second it was clear, the next it was thick black smoke. A lot of heat was coming from the 11th floor - it was like a blast furnace up there."
Asked how he felt when he came down after an hour on the platform, he said: "Exhausted, basically."
Dayana Francisquini, 26, and her children, six-year-old Thais, and Felipe, three, were killed in the fire.
Helen Udoaka, 34, her three-week-old daughter Michelle and 31-year-old Catherine Hickman also lost their lives.
They all lived on the 11th floor.
The inquest continues.