Arrests after raids on 'slums' in Southall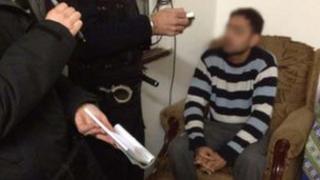 A young child was found living in squalid conditions in the latest crackdown on slums and illegal immigrants in west London.
Police and immigration officers found the toddler in a cramped rundown garage at the bottom of a house.
It had been converted into an unauthorised bedsit.
Immigration minister Mark Harper, who was part of the raid, told the BBC it was upsetting a child was living in such circumstances.
Seventeen people, all thought to be from India, were arrested in the dawn raid by officers on seven homes in Southall on Thursday morning.
Some tried to flee as UK Border Agency and Metropolitan Police officers forced open doors with metal battering rams.
But the 30 plus strong team of officials had each entrance covered as they raided the slum dwellings.
In each house they found at least 10 men living inside. Most of them sharing rooms and beds.
Many of the properties also had outhouses such as garages which had been illegally converted into accommodation.
Mr Harper and housing minister Mark Prisk said they were shocked by what they saw on the raids.
"The conditions that some of these families are living in are not good," said Mr Harper.
"Often they are being exploited and one of the reasons for cracking down on this is not just dealing with criminality, the rogue landlords and people's lack of right of being in the UK.
"But if there are children involved in this, this isn't a good way for them to be living."
'Other people's misery'
The so called "sheds in beds" are a growing problem. These are sheds or garages which have been illegally converted into living accommodation. There are thought to be around 10,000 of them in Britain.
Southall is believed to have the most. Slough is also blighted with them.
"This is the latest in a series of actions we are taking across government, nationally and locally to make sure we crack down on rogue landlords," said Mr Prisk.
"People aren't only flouting the law but are also causing misery for many individuals as part of a wider criminal problem.
"I think it is sad to see a minority of rogue landlords making money out of other people's misery and that's really what today is all about."