Charing Cross Hospital's A&E unit 'saved from closure'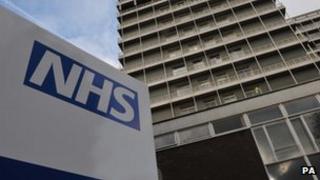 The A&E department at Charing Cross Hospital has been saved from closure, campaigners have said.
The unit will be downgraded but the west London hospital will still have a 24-hour, seven-day-a week emergency service, the local council said.
The original plans by NHS North West London (NHS NWL) wanted to close the unit in a reordering of services. A decision will be made on 19 February.
Campaigners called it a "second-best deal" and said it was not good enough.
NHS NWL said a final decision would be announced on 19 February.
Hammersmith and Fulham Council said Charing Cross Hospital would also get £90m to help rebuild it.
50,000-signature petition
The deal is similar to one made for Lewisham Hospital last week, where its A&E was downgraded from category one to a category three unit.
It will mean Charing Cross Hospital can still treat some emergency patients but the most complicated cases, including blue light emergencies, will go to other hospitals.
NHS NWL is also considering closing A&E units at nearby Central Middlesex, Hammersmith and Ealing hospitals.
Last year campaigners fighting plans to close those departments handed a 50,000-signature petition to Downing Street and they have marched in protest against the proposals.
Hammersmith and Fulham councillor Marcus Ginn said: "The massive opposition from local people to the original proposals has forced NHS managers to rethink their plans.
"The £90m cash injection now proposed by the NHS would secure the hospital's future for generations to come and the top priority was always to save Charing Cross and the services so many of our residents rely on.
"In return, we have agreed to halt our legal challenge to the NHS proposals as all but the most complex emergencies will continue to be treated at Charing Cross. We believe that we have secured the best possible deal for our residents."
The Shaping a Healthier Future programme was launched at the end of last year, with NHS NWL saying it needed to save about £1bn over the next three years, as well as improve standards.
'Cobbled together' deal
Save our Hospitals Hammersmith said the deal raised very serious concerns.
It said cutting inpatient beds from 500 to 60 was a "catastrophic change" and asked where the £90m was coming from.
Chair of the protest group, Carlo Nero, said: "If we're effectively being given the deal Lewisham was offered why should our local doctors be any less unhappy, and in some cases even outraged, than theirs?
"It seems clear to me, having chaired this campaign since last June, that this is absolutely not the result that Save our Hospitals was set up to achieve, and that we should continue to campaign.
"This cobbled together, second-best deal is not good enough for the people of Fulham or Hammersmith."