Eleven mental health patients in care of Trust have killed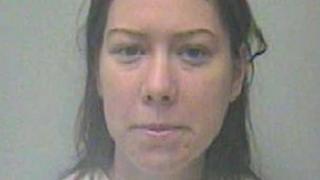 Eleven people who were treated by the mental health trust which was monitoring killer Nicola Edgington have gone onto kill, it has been revealed.
The figures show how many people have killed while in the care of Oxleas NHS Foundation Trust since 2004.
Edgington, 32, from Greenwich, was found guilty on Thursday of stabbing to death Sally Hodkin in 2011.
She had previously been sectioned for killing her mother in 2005 but was released into the community in 2009.
Edgington had been monitored by a doctor, nurse and social worker.
The figures were obtained under the Freedom of Information Act by campaign group Hundred Families.
It said one of the patients was Ahmed Ali, who killed his cousin after being allowed to leave Queen Elizabeth Hospital, Woolwich, in May 2009.
'Thorough investigation'
Stephen Firn, chief executive of the Trust, said of the 11 cases there had been varying levels of contact with the offenders - one offender had only one contact with the Trust.
He added that many of the homicides were not related to mental health problems - he said one was drug related, another was a fight outside a pub and two others were family incidents.
"I understand that people will find these figures worrying, but I want people to understand that I don't think they're high - certainly not compared to other mental health trusts," he said.
He added that the average national figure for people killed by those in the care of mental health services each year is "around 57 to 60".
The Trust said all homicides committed in those circumstances were investigated by the mental health trust that provided the care.
Strategic health authorities also have a responsibility to investigate these incidents.
After the verdict, Mrs Hodkin's family said they did not understand "how or why" Edgington had been allowed back into the community.
The Trust said it completed a thorough investigation which found the decision to discharge her in 2009 was "sound and the care she received in the community following her discharge was of good quality".
Risk to others
Marjorie Wallace, the chief executive of mental health charity, SANE said there were about 10 cases a year where a person with a mental health problem killed a stranger.
She said although the chances of being attacked were remote, about a third of them could be prevented.
"The movement there is at the moment is to discharge people even if they have had a history of violence…as quickly as possible out of the forensic units where they are taking expensive resources and placing them in the community under supervisory teams," she said.
She added that too often patients do not know who to contact because of staff changes and that there were many cases where people had tried to get help but it was not forthcoming - putting themselves and others at risk.