London fire station closures 'could be halted'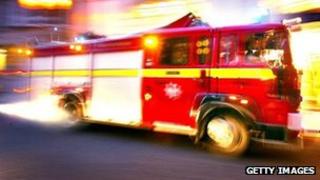 The closure of 12 fire stations in London could be stopped by an amendment to the mayor's budget, the London Assembly has proposed.
The a majority of members said freezing council tax rather than reducing it would provide an extra £9.4m.
The closure plans, aimed at saving £45m, were rejected by the London Fire Authority last month.
Boris Johnson, who has ultimate power over the fire authority, said he would ensure the consultation continued.
The proposals, which include the loss of 18 fire engines, would also see the loss of 520 jobs.
The amendment was passed by London Assembly members from the Labour, Green and Liberal Democrat parties on Friday.
It was approved by 15 votes to 9.
The £9.4m would come from freezing the Greater London Authority's council tax precept for emergency services rather than reducing it by 1.2%, as the mayor proposed.
'Unacceptable and dangerous'
Labour member John Biggs proposed the motion and said the mayor should "think again about his irresponsible plans to swing the axe at London's fire service and police stations".
He suggests £5.4m of the proposed savings go towards the fire brigade and the remainder would go to the mayor's office for policing and crime.
Paul Embery, of the Fire Brigades Union, said: "We strongly support any attempt to amend the mayor's budget so that frontline firefighting resources are maintained at current levels.
"Londoners want to be sure that a fire engine would be with them quickly if they needed rescuing from a fire or other emergency situation, yet the mayor's proposed cuts would see a deterioration in response times across 20 boroughs.
"That is unacceptable and dangerous."
A spokesman for Mr Johnson has said: "These proposals may mean a slightly smaller estate, but they also include bigger, more efficient and well-equipped modern stations.
"Whilst it's right that tough decisions have to be made in times of economic uncertainty, the mayor is resolute that any agreed proposals will not reduce the capital's fire cover and target response times will be protected."
The amendment must be considered by the mayor.
The mayor's final budget will be considered by the assembly on 25 February.