London Eye hosts its 5,000th marriage proposal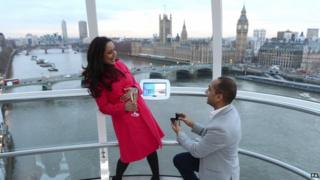 A couple have become the 5,000th pair to get engaged on the London Eye.
Jagan Rao and Natasha Palmer from Marylebone, central London, decided to get married on the wheel on Saturday.
The couple have now been given a complimentary "Cupid's Capsule" on the date of their proposal every year.
Since the attraction opened in 2000, there have been 5,000 proposals that are known of, 512 weddings, 22 civil partnerships and about 1.5 million glasses of Champagne consumed.
'Somewhere memorable'
Natasha, 30, said: "I am still a little bit shocked to be honest, I never expected to be proposed to on the London Eye, it was quite amazing as we had our own capsule, Champagne and then Jay popped the question.
"There was only ever going to be one answer."
Jagan, also 30, said: "I wanted somewhere memorable to pop the question and thought where better than while looking over the city we met in.
"I contacted the London Eye to book and was told ours would be the 5000th proposal and would I like to make it even more special with a free private capsule to ourselves, roses, Champagne and photographs of the day.
"It was great to see Natasha's face!"