Samuel Guidera murder: Parents appeal to help catch killer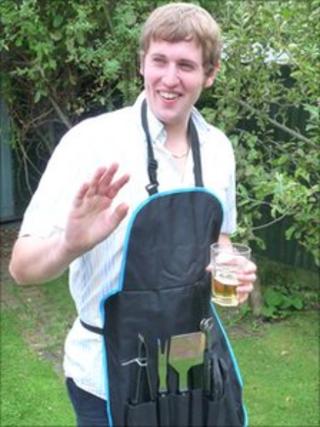 The parents of a student who was stabbed in the heart as he walked to meet his girlfriend said they have "started a life sentence from which we will never be released".
Samuel Guidera, 24, was attacked and robbed in Sydenham, south-east London, on 12 February 2011.
His parents and girlfriend have made an appeal for help in catching his killers on the second anniversary of his death.
There is a £20,000 reward for information leading to a conviction.
Mr Guidera's parents, Sarah and Chris Guidera, said: "We still feel a sense of anger and all we can do is continue to cope with each day as it comes, with the help of medication, family, friends, whatever it takes.
'Haunt me forever'
They added: "We just want somebody out there who knows something that could help in the apprehending of the killers to come forward so they do not have the opportunity to take another person's life and destroy another family."
Mr Guidera, an aspiring teacher who was studying history and politics at the University of Greenwich, had spent the day watching football on television with friends before getting the 21:17 GMT train from Bickley to Penge East, arriving just before 21:30 GMT.
He crossed the footbridge over the railway to the Newlands Park exit and was later found collapsed in the street at Bailey Place.
His girlfriend Claire Smith said: "Two years on, I want to know what gave these people the right to end Sam's life like that.
"His desperate attempt to call 999 before he lost consciousness, the panic he must have felt when he realised what was happening, the loneliness of dying in the street without a single person who knew his name; these things will haunt me forever, but Sam actually went through them. And for what?"
Last year police released CCTV of people they believe may have information about the murder.
Four people have been arrested so far as part of the investigation but no one has been charged.