Haringey council tax ruling taken to Court of Appeal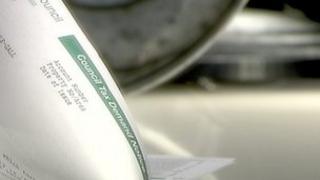 A single mother who opposes plans to make people on benefits contribute to their council tax bill has taken her legal battle to the Court of Appeal.
Last week a High Court judge dismissed Sarah Stirling's claim against Haringey Council in north London.
Her lawyers say the council's consultation over the changes was "so flawed as to be unlawful". The council disputes her allegations.
The government is scrapping the council tax benefit system from April.
Local authorities are being asked to introduce their own council tax reduction schemes but with a 10% cut in funding.
A study by the Resolution Foundation independent research group in January found nearly three quarters of local authorities in England were planning to increase demands on low-income families.
'Fundamentally unfair'
The mother-of-four's lawyers said welfare reforms were aimed at saving money and encouraging people on benefits to find employment and the changes could have "profound consequences" for some of the poorest and most vulnerable in society.
The lawyers said the process did not enable Ms Stirling to make an "intelligent response" to the proposals following the consultation.
The council has said its consultation process was extensive, clear and comprehensive and it had received more than 1,400 responses.
Dismissing her legal challenge in the High Court, Mr Justice Underhill said the consultation was not "fundamentally unfair" and ruled in the council's favour.
A spokesman for the Department for Communities and Local Government said: "Under the new localised system, councils are legally responsible for drawing up their schemes.
"The government has provided £100m of transitional funding to help all councils develop well-designed schemes, maintain positive incentives to work and encourage best practice."