Lee Boxell case: Fresh appeal 25 years on for missing teen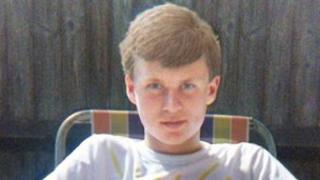 Renewed appeals are being made over the disappearance of a teenager who vanished 25 years ago.
Lee Boxell, who would be 40 on Saturday, has not been seen since 10 September 1988, when he was on the High Street in Sutton, south-west London.
A reconstruction of his last known movements will be broadcast on the BBC programme Crimewatch later.
His father Peter told the programme: "We always hoped that he would be alive and come home."
'Nightmare'
"We can't begin to grieve until we know for sure that he is not alive," he added.
"Obviously, we hope that he is still alive, but that hope is fading after 25 years."
His mother Christine said: "It's a nightmare, especially now it's cold.
"I think if he's out there is he cold, is he sleeping rough? I think all different scenarios of what could have happened and what he would be like now.
"We want somebody really to think about things and just come forward, put our minds at rest about what happened to him."
When he disappeared, Lee was 5ft 6in (1.68m), slim with light brown hair and was wearing a white Flintstones T-shirt, black jeans and brown suede shoes.
Police believed that he had gone to watch football at Selhurst Park, but he had never been to the ground before.
He was last seen on the High Street at 14:20 GMT, which would not have allowed enough time to get there for kick-off.
He is not believed to have accessed any bank since he disappeared.
Det Insp John McQuade said: "I am appealing to anyone who knows where Lee is or what happened to him on that day to contact police - no piece of information is too small."