Paedophiles active when Lee Boxell vanished in 1988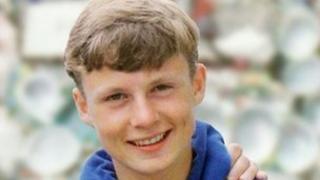 A teenager missing for 25 years may have been murdered in an area known to have an active paedophile ring at the time, detectives have revealed.
Lee Boxell was last seen in the High Street in Sutton, south-west London, in September 1988 when he was aged 15.
The Metropolitan Police now believe he was murdered.
They have also revealed there was "known paedophile activity amongst a group of offenders in the Cheam area at the time Lee disappeared".
Investigators are working on the theory that on the day he disappeared Lee went to a church outbuilding where teenagers would drink and smoke.
St Dunstan's Church in Cheam was known as "the shed", police said, adding that a group of offenders were engaged in paedophile activity at the time.
'Victim of circumstance'
Det Insp John McQuade said: "Lee used to go to the shed and there is a theory that he may have seen something that may have led to him losing his life.
"There's no indication that he was a victim of any paedophile activity or sexual offences against himself.
"Although shy and a bit socially inept he was a strong little character. If he had seen it, he would have stood up to them. I think he was a victim of circumstance that afternoon."
He said the shed had attracted teenagers who would congregate there to spend time with their friends.
Mr McQuade began reviewing the case in 2011 and realised it should have been treated as a murder investigation from the beginning.
He said although the case was still being investigated as a missing persons inquiry, there was "little evidence" he was still alive.
"We believe that there is a witness or witnesses who would have been at the shed on the day Lee went missing and would appeal directly to those people to come forward," said the detective.
A reconstruction of Lee's last known movements was broadcast on BBC One's Crimewatch on Thursday night, along with an appeal by his parents for information.
So far investigators have received about 40 calls to the studio and a number of others to the incident room.
When he disappeared, Lee was 5ft 6in (1.67m), slim with light brown hair and was wearing black jeans, a white Flintstones T-shirt and brown suede shoes.