The Beginning Was the End: Da Vinci-inspired Somerset House show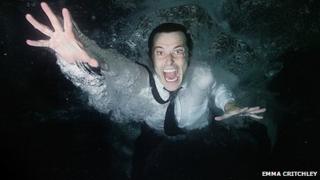 A former abattoir in central London, a long forgotten department store in Brighton and a disused paper factory in Moscow might not seem the most likely of theatre venues.
Yet they are just some of the locations where artistic director of dreamthinkspeak Tristan Sharps has been setting up shop over the past decade.
Sharps' venue of choice for his latest production, In The Beginning Was The End, complete with hidden chambers and underground vaults, is central London's Somerset House.
If you're looking for some culture on an evening out but struggling to choose between a bit of theatre, some visual art, or catching a film - this may be just the ticket.
'Maze-like passages'
The piece of site-responsive theatre, as Sharps prefers to call it, combines all of the above along with some physical science to offer up a funny, beautiful and sometimes chilling journey through a subterranean world.
Dreamthinkspeak has used Somerset House as a venue before, in 2003, and initially Sharps wasn't keen to revisit old territory. But then he was shown a series of spaces he couldn't resist.
"The visual element is so strong, it defines what I do," he says.
His latest production also takes over the deep, dark basements of Kings College's engineering department, which is next door to Somerset House.
"The soaring neo-classical arches alongside Kings College engineering department was fascinating," says Sharps.
At five-minute intervals, a small group of spectators are led from the courtyard and into the chambers of the building.
The audience then walk through secret, maze-like passages beneath the ground that are rarely seen by the public, leading them from one building to the next.
Sharps is a visionary and a bit of an obsessive - just the skills you need to put on something of this scale and with this level of detail.
"I start with an idea. In this case it was a love for Leonardo da Vinci and a drawing I came across," he says.
"Every now and then I get shown a building. It has to be architecturally appropriate for the idea in my head."
'Angry doodle'
Then the real work starts, for which he says the play is like a sculpture.
"You start with a block and start chipping away at the shape," said Sharps.
"I spend a long time in the building, then slowly start bringing on more people from model-makers to the performers."
For this creation, he has taken on a production team of 41, including carpenters, model-makers and scenic artists, plus a cast of 32 actors.
So how has da Vinci inspired Sharps' latest brainchild?
"I was always interested in visual art before I was interested in theatre," Sharps says.
"When I was a young chap, I took a train around Europe, looking around the galleries and saw lots of Leonardo's paintings and became obsessed with him."
But it was only more recently when Sharps discovered the da Vinci drawing A Cloudburst of Material Possessions, that he came up with the concept for his new play.
The drawing, which Sharps says is "like an angry doodle", is a surreal and apocalyptic vision depicting a torrential downpour of man-made objects.
Leonardo was obsessed with mechanics, a science he described as "the noblest and useful above all others".
But he was also aware that humanity might abuse science: it might be a gateway to discovery, or it might ultimately trigger our self-destruction.
'Precious experience'
Sharps believes the themes da Vinci was concerned with in the early 16th Century, from materialism to the end of the world fears, "are as relevant today".
His work shows the cycles of creation, production and self-destruction are closely linked and asks whether we are in a world of development or on the brink of collapse.
But Sharps says it is up to the audience to decide what they take away.
"What the audience feel about it is up to them," he says.
"The best work shouldn't give the answers but it should ask the right questions.
"As we ponder these, the world is sliding. To stop it will take a lot of thought."
You may be surprised to hear the show doesn't feature a representation of da Vinci.
"He's part of the fabric of the show. But we tend not to show him," says Sharps.
Instead, you will be confronted with a Babel of tongues, larger than life robotics and some in-your-face nudity.
But more specific details can't be disclosed as the audience are sworn to secrecy upon entry.
"It's just nice to keep the secret so people can have a precious and unique experience when they see it," Sharps explains.
In The Beginning Was The End, is showing at Somerset House, in central London, until 30 March