Final mass held for gay Catholics in Soho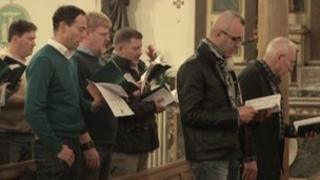 A mass for gay and lesbian Catholics has been held for the last time in central London because the Church says it goes against its views on sexuality.
The leader of the Roman Catholic Church in England and Wales said it conflicted with religious teachings on sexuality.
The Archbishop of Westminster has asked organisers of the service in Soho to instead concentrate on providing pastoral care.
Gay rights charity Stonewall has said it was a "real shame".
The masses have been held at Our Lady of the Assumption Church in Warwick Street, Soho, for the last six years. Previously they had been congregating in an Anglican church.
Joe Stanley, chairman of Soho Masses Pastoral Council, told the BBC's Inside Out London programme: "Because a lot of LGBT [lesbian, gay, bisexual and transgender] people find a lot of difficulty in being open and honest in Church, what we offer here is the ability, twice a month, to come and stand openly and honestly and directly before God."
Congregation member Renate Rothwell said she felt really sad.
"The tears which are shed are angry tears, because I feel angry that this didn't need to have happened," she added.
'Well rehearsed'
Monsignor Seamus O'Boyle, parish priest of Soho Mass, said: "To be able to reach out in love, which I think is what we have done, for me has been personally quite gratifying.
"To see this community grow, which it has, and to feel that they could come to church and be part of the church has been something quite marvellous, but it's not construed that way by everyone else."
Archbishop Nichols said: "The moral teaching of the Church is that the proper use of our sexual faculty is within a marriage, between a man and a woman, open to the procreation and nurturing of new human life."
The archbishop added: "As I stated in March 2012, this means that many types of sexual activity, including same-sex sexual activity, are not consistent with the teaching of the church."
Ruth Hunt, Stonewall's director of public affairs who is Catholic, said: "The archbishop's views on gay issues are well rehearsed and have nothing to do with the spirituality of some lesbian and gay people and their desire to express their faith."
'No U-turn'
The BBC's religious affairs correspondent Robert Pigott said: "The services were allowed by Archbishop Nichols on the condition that they weren't used to challenge church teaching.
"His decision to end them is a significant change of heart: only two years ago he defended the masses giving gay Catholics the chance to identify themselves by their Catholicism rather than their sexuality.
"He told the traditionalists who protested against the services to hold their tongues.
"Since then Archbishop Nichols has become a leading figure in the campaign against same sex marriage."
Christopher Lamb, from the Catholic newspaper The Tablet, said: "I wouldn't say it's a U-turn because Vince Nichols is still very keen to support gay Catholics.
"I think it is of course a change of direction, but I think it was because of the pressure he came under by the authorities in Rome."
Madeline Teahan from the Catholic Herald said Catholics had become uncomfortable with seeing political symbols such as the rainbow flag at the altar.
Members of the congregation are now being encouraged to attend the mass at Jesuit Church at Farm Street, Mayfair.
The coalition government is committed to legislating on gay marriage by the 2015 general election and a bill is expected to be tabled in January.