Heathrow airport reports £2.46bn in revenues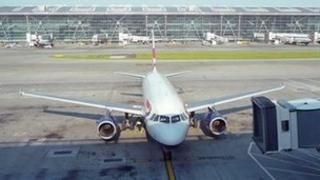 Heathrow reported higher revenues and profits after a record 70 million passengers used Britain's biggest airport during 2012.
It posted an 8% rise in revenues to £2.46bn, with profits of £46.4m.
The company predicted further growth and said the new Terminal 2 should be completed towards the end of 2013.
But the west London airport said it is operating close to capacity and warned this would limit the UK's ability to trade with emerging economies.
There were 471,341 flights during 2012, just below Heathrow's cap of 480,000 a year.
Ticket price rises
The results from the former BAA company include Stansted Airport, which was sold after the year-end to Manchester Airports Group for £1.5bn.
Stansted's passenger numbers declined 3.2% to 17.5 million last year.
Heathrow achieved an all-time record passenger satisfaction score in a survey produced by the Airports Council International for the third quarter, but the percentage of people passing through central security within the prescribed time was below last year's level at 92.8% in 2012.
Last week, it was announced passengers at the airport face a rise in ticket prices if a £3bn five-year investment plan is approved.
Heathrow wants regulators to allow it to increase charges for airlines to use the airport, between 2014 and 2019.
The charges need to be approved by the Civil Aviation Authority (CAA),
Under the plan, they will go up by the equivalent of £19.33 per passenger for 2012-13 up to a possible £27.30 in 2018-19.