Sham marriage mastermind jailed for 10 years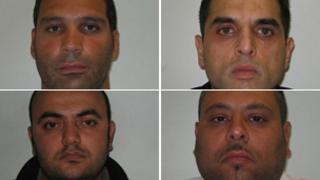 A solicitor has been jailed for 10 years at the Old Bailey for running an immigration sham marriage scam.
Tevfick Souleiman and immigration advisers Cenk Guclu and Furrah Kosimov were found guilty of conspiracy to breach immigration law last week.
Souleiman, from Hatfield, and Guclu, from Enfield, were also convicted of receiving proceeds of crime.
Kosimov, 29, from Wembley, was also convicted of money laundering.
He was found guilty in his absence as he is believed to have fled to his native Uzbekistan.
Guclu, 41, of Enfield, and Kosimov, were jailed for nine years.
Souleiman, 39, was told he had let down his profession and destroyed the trust placed in lawyers.
Judge John Bevan said members of Souleiman GA solicitors had run a "conveyor belt" of brides being flown in from eastern European countries.
They would marry men they had never met from non-EU countries and be flown out the next day after being paid by the north London firm.
Industrial scale scam
Another of the firm's immigration advisers, Zafer Altinbas, 38, of Islington, pleaded guilty to conspiracy to breach immigration law and receiving money from the proceeds of crime as the trial started.
He was jailed for six years and nine months.
Judge Bevan said it would be hard to find a similar scam of the same scale and sophistication.
He added: "A heavy responsibility for upholding the law rests with the lawyers.
"If the public cannot trust them, who can they trust. You have destroyed that trust by driving a coach and horses through these rules."
An estimated 1,800 men, including members of the Albanian mafia, were able to live in Britain by taking part in sham marriages over eight years.
Women from eastern European countries were flown to Britain to marry men from outside the EU.
They turned up at register offices having never met, and were sometimes unable to speak a common language.
Men would pay up to £14,000 to Souleiman GA Solicitors for a marriage package.
This would include fake tenancy agreements, employer's references and forged documents.
Clients would travel from as far as Devon and Scotland and marriages would take place in a number of registrars' offices.
Only £2m of unexplained income had been found in bank accounts. The rest is thought to have been smuggled out of the country.
The racket was uncovered after British police cracked an Albanian drugs and money laundering gang in London.
The brothers at the head had undergone marriages arranged by the firm.