Croydon alcohol curb zones labelled classist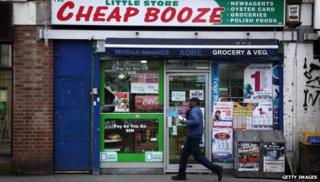 A proposed limit on the number of places allowed to sell alcohol in a south London borough has been branded "classist" by a small businesses representative.
Croydon Council wants to limit the number of new licences in over two thirds of the borough to curb crime and anti-social behaviour.
The chairman of Croydon's Federation of Small Businesses said it would hit the poorest areas most.
A decision is due after nine weeks.
Croydon Council wants the number of new licences to be restricted in 17 of its 24 wards.
If cumulative impact zones (CIZs) come into place and an objection is received for a new licence there will be a presumption that the application be refused, the council said.
Leafy suburbs
But each application will be considered on its own merit, said a spokesman.
Jeremy Frost, of the Croydon branch of the Federation of Small Businesses, called the move "classist".
He said: "It seems the leafy suburbs are fine but if you live in poorer areas you can't have a drink."
He added: "It's biased against the small business community.
"It has layers of complexity for small businesses which won't affect the likes of Sainsbury's and Tesco."
Mr Frost is a liquidator and says he sees the challenges facing licensed venues already struggling with high rents and low profit margins.
'More pleasant'
But a council spokesman said the areas earmarked for CIZs were selected based on a number of statistics, including crime and anti-social behaviour figures, hospital admissions and the number of licensed premises.
Existing licences will not be affected.
Simon Hoar, cabinet member for community safety and public protection, said: "We are looking to tackle crime and anti-social behaviour in our town centres and make these areas more pleasant for people to visit and work in."
Croydon has 1,094 places licensed for the sale of alcohol.
In 2010, government figures showed there were 355 areas with cumulative impact zones in England and Wales, from Adur in West Sussex to York in North Yorkshire.
Other London boroughs with CIZs include Barnet, Hammersmith and Fulham and Camden.