Tamara Ecclestone blackmail case: Man had 'no need' for money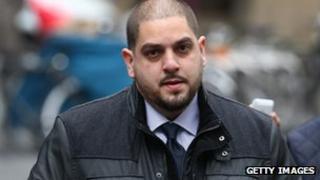 The ex-fiance of Tamara Ecclestone has denied trying to blackmail her saying he had "no need to extort anybody for money".
Derek Rose, 33, went out with the daughter of Formula 1 boss Bernie Ecclestone for two years until 2002.
It is alleged that Mr Rose and Jakir Uddin wrote a letter to her manager saying they had been offered £200,000 for a story. No offer had been made.
Mr Rose, of Camden, London, and Jakir Uddin, of Birmingham, deny blackmail.
Southwark Crown Court heard that having met in the summer of 2011, Mr Rose and Mr Uddin, a media production student, became friends and Mr Rose agreed to be the subject of a university project about his relationship with Miss Ecclestone, 28.
'Nothing to do with it'
Mr Rose said he agreed to the initial project but was "shocked" when Mr Uddin, 20, later said he wanted to sell the footage.
He told the court: "I didn't want this story to come out in the public domain. It would be embarrassing for me, embarrassing for my son and it's not something that I would do."
Mr Rose said he told Mr Uddin he "wanted nothing to do with it" but added "he had the tape, it was his property" and Mr Uddin could sell it if he wanted.
In November 2011 it is alleged Mr Uddin then acted as Mr Rose's official representative and sent Miss Ecclestone's then manager, Dana Malmstrom, a letter claiming a tabloid had offered them £200,000 for a story.
He said it was Mr Uddin who came up with the "ludicrous" amount of money and he had "no need to extort anybody for money".
He said the point of the email was "to discuss the possibility of a non-release - that the story wouldn't go out."
Mr Rose told the court he did not necessarily think Mr Uddin's motive in sending the email to Miss Ecclestone's manager was financial.
The trial continues.