Prince Charles visits young patients at Great Ormond Street Hospital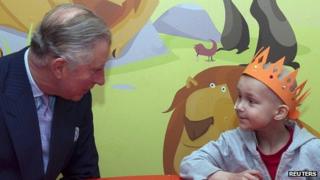 The Prince of Wales has visited young cancer and epilepsy patients at Great Ormond Street Hospital in London.
During his visit Prince Charles also saw the complementary therapy suite where massages are offered.
Marcus Henson, 11, from Surrey, who is undergoing chemotherapy said: "He was really kind, really soft-hearted."
As a child Prince Charles was admitted to the hospital with appendicitis, and his sons, Princes William and Harry have also been treated there.
'Covered in glue'
During his visit he spent time at the complementary therapy unit where more than 250 children have had massages since it opened in 2010.
Jenni Hallman, a complementary therapy nurse specialist, said: "The prince was very interested to hear about how the children are benefiting from the therapy, including ways it's helping them to relax, sleep and how it can often be a distraction from the pain of their treatment."
The room has green lights and screens showing a blue sky which Marcus told the prince "gets rid of all the memories of what's happening".
Six-year-old Joseph Black, from Muswell Hill, showed the prince his toy models to which he replied "I used to do those when I was your age," adding, "I'd get my things covered in glue."
The chief executive of the hospital, Jan Filochowski, said: "It was fantastic to have the opportunity to show him round our hospital."