Three men arrested over Tottenham fans attack in Lyon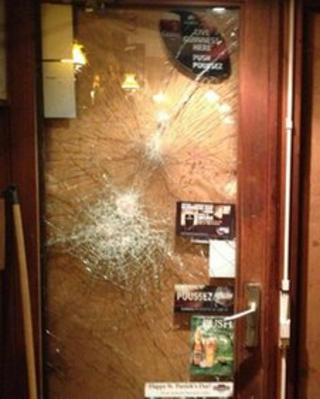 Three men have been arrested by French police following an attack on Tottenham fans in a bar in Lyon.
Witnesses in the Smoking Dog pub said up to 50 masked men were involved in the incident on Wednesday night. Three Spurs fans were taken to hospital.
The Rhone police prefect told reporters one of the Frenchmen arrested was a member of a far-right group and two were Lyon "hooligans".
Olympique Lyonnais has condemned the "inadmissible acts" of "pseudo" fans.
On Thursday night, when Spurs drew 1-1 with Lyon to advance to the next round of the Europa League, there was a heavy police presence on the streets and several bars closed early, BBC sports reporter Richard Conway said.
'Reprehensible acts'
Rhone police prefect Jean-Pierre Cazenave-Lacrouts told news agency AFP: "One of them was known to belong to a French far-right grouping and the two others hooligans of the Lyon ultras fans."
In a statement on Wednesday the French club said: "Olympique Lyonnais deplore the incidents overnight in the Saint-Jean district between the supporters of Tottenham and the 'pseudo' supporters of Lyon who absolutely do not represent the club.
"Olympique Lyonnais apologises to Tottenham and its supporters, for the inadmissible acts which degrade the image of the town of Lyon.
"Olympique Lyonnais call on the French justice system to impose severe sanctions for these reprehensible acts."
The attackers broke windows, threw chairs and stones and it is believed a lit flare was thrown into the bar which had about 150 people inside, landlord Dave Eales, who is originally from Nottinghamshire, said.
The incident took place about 24 hours before the Europa League tie between the clubs, in the last-32 stage of the tournament.