Former rough sleepers on London outreach scheme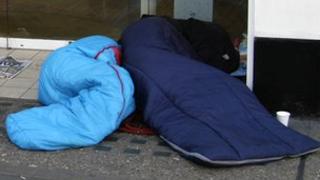 A group of former homeless people have completed training to become outreach workers to help rough sleepers find a way out of sleeping on the streets.
The former London rough sleepers have been trained in tackling the issues of substance use and mental health.
Former rough sleeper Mariusz said: "I want to connect with these people and tell them there is an alternative."
The rough sleepers, will begin working as outreach workers later this month as part of The Street Buddies project.
'Relate to people'
Mariusz, who did not want to give his surname, began sleeping rough after his life spiralled out of control following the end of his marriage
"Because we've all been there ourselves, we know how to relate to people on the street," he said.
Street Buddies coordinator Natalie Lodge said: "We are using the expertise and knowledge that already exists on the street."
The Street Buddies project, run by housing and care provider Riverside English Churches Housing Group (Riverside ECHG) and Westminster Council, is funded by the Homeless Transition Fund.