Watchdog clamps down on 'hidden' theatre ticket costs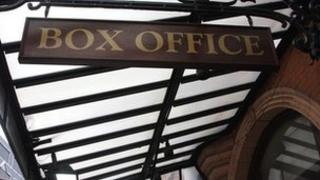 The advertising watchdog has said it is clamping down on "misleading hidden costs" for theatre tickets after ruling against four theatre websites.
The Old Vic, Ambassador Theatre Group, the AKA Group's site for A Chorus of Disapproval and Charing Cross Theatre gave misleading ticket prices, it said.
Up to £3 extra in transaction costs was not made clear, complainants said.
The Advertising Standards Authority (ASA) said vendors must be clear about compulsory charges per booking.
ASA's chief executive Guy Parker said: "We are clamping down on misleading hidden costs.
"The rulings about advertised prices for theatre tickets make clear that sellers must include all compulsory fees and charges in quoted ticket prices and be more up-front about booking fees.
"These pricing practices are simply not fair. They draw us in on a false promise.
"Our rulings send a clear signal to advertisers: sort out your pricing so we all get a fair deal."
Clear pricing information
The Old Vic said it had added text to the bottom of the page on its website which highlighted the booking fees, but added that the fee was applied per transaction rather than per ticket.
Charing Cross Theatre said it was not reasonable to require them to include the commission fee in ticket prices because the website also gave theatre-goers the option to book in person at the box office, where no commission was payable.
A statement from the Ambassador Theatre Group said: "The ASA advised us that informing customers at the beginning of the booking process that a fee or charge may apply and to then confirm the amount of that fee later in the booking process needed revision.
"We have embarked on a series of improvements to the information on our website to ensure that ticket prices and any fees charged for purchasing online are clearly available to customers at the beginning of the booking process as well."
A spokesperson from the AKA Group said: "Moving forward we will ensure that the first references to pricing for a performance are immediately qualified with the amount of any associated transaction fee or charges."