Taxpayers pay £1bn to fund Crossrail rolling stock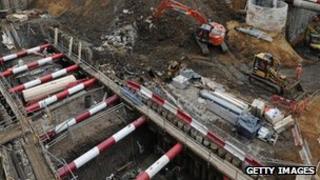 New trains for London's Crossrail scheme are to be fully funded by the taxpayer so that the £14.8bn project can start on time.
Initial plans for the £1bn Crossrail rolling stock procurement involved £350m public sector contribution.
But now the entire amount will be paid for by the public purse in a move the government said was "an appropriate course of action".
Labour called the move "another humiliating transport shambles".
Crossrail will connect 37 stations from Heathrow Airport and Maidenhead in the west, through central London and out to Abbey Wood and Shenfield in the east.
It is due to be completed in 2018.
Transport for London said the arrangement will help to ensure a deal for the new trains will be in place in 2014, with delivery and testing starting in 2017 ready for the opening of the new tunnels to passengers in late 2018.
'Humiliating shambles'
London Mayor Boris Johnson said: "Nothing must get in the way of this fabulous new railway and it is fantastic news that we can now crack on with buying the wonderful fleet of brand spanking new trains."
Transport Minister Stephen Hammond said the Department for Transport remained committed to the use of private finance in transport projects "where it provides value for money and fits with our timetables for planned investment".
But he added that government believed Crossrail funding decision was "an appropriate course of action to deliver a very complex and unique infrastructure project within the delivery timetable".
Shadow transport secretary Maria Eagle said: "This is yet another humiliating transport shambles.
"Labour has spent two years urging ministers to learn the lessons from the botched Thameslink contract."
TaxPayers' Alliance chief executive Matthew Sinclair said: "Taxpayers will be astonished to find that their contribution to Crossrail is to increase by such a huge amount."
The 100% taxpayer funding arrangement was welcomed by rail unions RMT and TSSA.
RMT leader Bob Crow said: "This is a hugely important development."
TSSA leader Manuel Cortes said: "We welcome the fact that Tory ministers recognise that it is cheaper and quicker to have publicly-funded new trains."