Baby's pneumonia death 'has led to GP centre changes'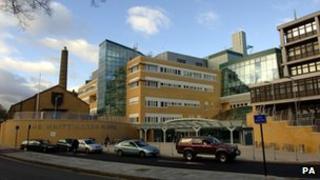 A baby's death from pneumonia has prompted a private out-of-hours GP centre in London to make changes aimed at avoiding another death from an incorrect referral, bosses have said.
An inquest into the death of seven-week-old Axel Peanberg King heard his mother consulted doctors three times before he was correctly diagnosed.
Two occasions were at the private Harmoni centre.
The firm said it had explored how to best support doctors treating babies.
Medical director Dr David Lee said it had also looked at improving communication between staff and has assessed what questions call handlers put to patients and their carers.
Cardiac arrest
St Pancras Coroners' Court heard on Thursday an out-of-hours doctor had booked Axel into a routine appointment when it should have been flagged up as urgent.
Axel's mother Linda Peanberg King, of Islington, north London, told the inquest she went once to her GP and twice to the Harmoni centre at the Whittington Hospital in Archway, after Axel fell ill last October.
At first he was diagnosed with a viral infection.
The final time Mrs Peanberg King took Axel to the doctors, he was seen by an off-duty paediatric nurse who raised the alarm.
He was then taken from his mother, who was later told that he had gone into cardiac arrest.
He eventually died of bronchopneumonia at the Whittington Hospital.
During the hearing, Dr Muttu Shantikumar of the Harmoni centre said he set the baby's appointment as "routine" and the one he arranged was the earliest available.
He said he did not regard the case as urgent from the information he had.
Coroner Dr Shirley Radcliffe said she decided on a narrative verdict because she was not able to find any evidence for a "clear cause" of death.
'Safe and robust' service
Dr Lee said after the death the Harmoni centre carried out an "exceptionally detailed" review of the circumstances.
"We believe we have the right underlying systems, policies and procedures to ensure a safe and robust out of hours service," he said.
"As a direct result of this tragic death, we have already taken a number of steps which have included meeting with the relevant consultant paediatricians at the Whittington Hospital and the clinical lead for community paediatrics.
"We have jointly assessed how we can provide additional support to our out-of-hours GPs dealing with very young babies and have further improved communication between the services so that if there are concerns these can be highlighted and addressed quickly.
"We have also analysed the questions which are put to patients' carers by our call handlers in order to identify whether the format of the questioning could be improved."