Regent Street still under repair after 'major burst'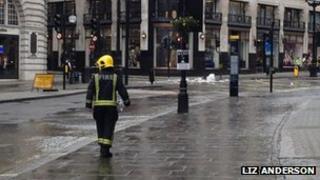 One of London's busiest shopping streets is set to remain closed to traffic for another day due to flooding from a burst water main.
Regent Street was closed between Conduit Street and Piccadilly Circus at lunchtime on Saturday.
Fifteen shops were blocked off by a cordon set up by firefighters, following the rupture near Vigo Street.
Engineers later isolated the main and stopped water flowing, but called it a "major burst".
'Significant damage'
Thames Water has apologised for the disruption and said the street is set to remain closed into Monday as the broken section of pipe is replaced.
Clive Dickens, engineer for Thames Water, said: "This was a major burst and has caused significant damage to the road."
Once the pipe is fixed, a section of road will need to be resurfaced.
A spokesman said footpaths had been reopened and shops have been able to open for Sunday trading.
The road closure has led to night-time and Sunday bus services being diverted.
'Road exploded'
A spokesman for New West End Company, which represents businesses in Regent Street, said some shops were able to re-open later on Saturday after pavements were cleared.
Alex Cousins, who was on a day trip to London from Sevenoaks, Kent, on Saturday had intended to visit clothing store Superdry, which was among those closed.
"It looks like the road exploded," he said.
Other shops in the affected area included Zara, Mango, Burberry, Austin Reed and Uniqlo.
More than 7.5 million tourists visit the street per year, according to New West End Company.
The cause of the burst is not yet known.
Martin Low, Westminster City Council's commissioner of transportation, said: "We have asked Thames Water for details of the age and condition of the pipework to see if this failure could have been predicted."
In January last year, a section of nearby Oxford Street had to be closed when a burst main flooded several shops resulting in damage of an estimated £1m.