Bulgaria violin 'may be Stradivarius stolen in London'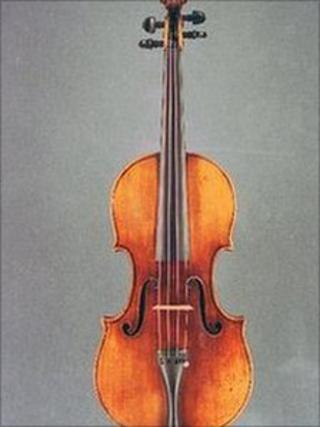 A violin recovered following a police operation in Bulgaria could be a Stradivarius made in 1696 which was stolen from a central London station.
The £1.2m Stradivarius and two bows were stolen from classical musician Min-Jin Kym while she was in a cafe at Euston station in November 2010.
John Maughan, 30, admitted theft in 2011 but the violin was never found.
British Transport Police said it was trying to verify if the instrument recovered was the stolen Stradivarius.
The Korean-born musician, who has played with the Royal Philharmonic Orchestra, was due to board a train to Manchester and was buying a sandwich at Euston station when the case containing the instrument was taken from her.
Maughan, of no fixed address, who was jailed for four years, and two boys, then aged 15 and 16, admitted the theft in March 2011.
Now officers investigating claims the violin has been found in the possession of a suspected criminal in Bulgaria's capital Sofia.
A BTP spokesman said: "British Transport Police detectives are aware of the recovery of a violin in Bulgaria and will investigate with insurers, underwriters and international colleagues, whether it is the 1696 Antonio Stradivarius antique violin stolen from a cafe at Euston rail station in November 2010."