Lakanal House Fire: 'No fire risk assessment' done of tower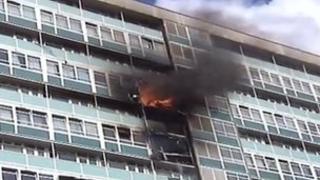 No valid fire risk assessment was in place when a fire broke out in a south-east London tower block claiming six lives in 2009, an inquest has heard.
New rules from 2006 meant all councils were required to carry out fire risk assessments on their properties.
Chartered surveyor David Walker, an expert witness, said Southwark Council "should have prioritised" Lakanal House in Camberwell, as it was "high-risk".
Six people, including three children, were killed in the fire in July 2009.
Catherine Hickman, 31, Dayana Francisquini, 26, and her children, six-year-old Thais, and Felipe, three, were killed in the fire.
Helen Udoaka, 34, and her three-week-old daughter Michelle also died.
'High-risk building'
Lakanal House was a "high-risk building", Mr Walker said, but no valid fire risk assessment was in place when the fire broke out.
Giving evidence he said when the new regulations came into effect in 2006 few local authorities prepared for their new responsibilities.
Refurbishments took place at Lakanal House in 2006, but no risk assessment was done at the time.
Mr Walker said: "In my opinion London borough of Southwark should have carried out a fire risk assessment of Lakanal House.
"It was a high-risk building which should have been prioritised in any risk assessment programme."
As a result of no assessment being done serious fire hazards were probably overlooked, he added.
The suspended ceiling was high-risk and needed immediate attention before the fatal fire as it breached safety designs around compartmentation, Mr Walker told the inquest.
The fatal tower block fire triggered a dramatic increase in completion of fire risk assessments, but questions have been raised about how credible those assessments were, the coroner heard.
Mr Walker said: "Fire risk assessments are still of variable quality... a complex building needs a fire risk assessor with comprehensive training and experience to do credible assessments."
The inquest continues.