Repairs on Regent Street after burst main to take two weeks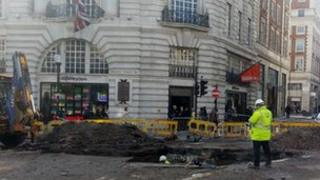 A section of a busy shopping area in London's West End could remain shut for another two weeks after a burst main flooded the area, Thames Water said.
A 20in pipe broke at the junction of Vigo Street and Glasshouse Street on 2 March, closing a part of Regent Street and affecting 15 shops.
The century-old water main has been fixed but it could be another fortnight before the road surface is mended.
Thames Water has apologised for the inconvenience caused by the rupture.
Engineers will also check sewers and the safety of the carriageway and replace a 7in-wide water pipe running over the top of the affected water main.
Westminster Council said it had also brought forward some road works in the area which were scheduled for later this year.
Bob Collington, operations director for Thames Water, said: "This is our fault and our responsibility to put right."