London apprentices to receive 30% travel discount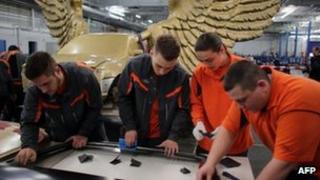 Apprentices are to receive a 30% discount on Transport for London travel cards, Boris Johnson has announced.
London's mayor said about 40,000 people who live and work in the city would benefit from the discount, which could be up to £660 per year.
He added there were about 1,000 paid apprentices working at City Hall.
The announcement comes as the government pledged to make it the "new norm" for school leavers to either take an apprenticeship or go to university.
The discount will apply to Tube, bus and tram journeys and applications can be made from May.
To be eligible, workers have to be enrolled on an apprenticeship training course for a minimum of 12 months.
City Hall said the mayor was on target to meet his pledge of helping to create 100,000 apprenticeships by the end of 2012. In October last year, the campaign had created 99,700 places.
Mr Johnson said: "London's apprentices are now providing a fantastic contribution to our economy and it's only right that they are recognised for their hard work and commitment."