Enfield gas leak: Homes evacuated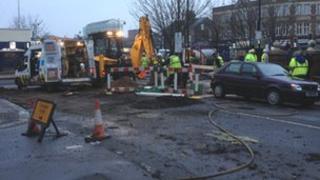 About 120 people have had to leave their homes and businesses because of a large gas leak in Enfield, north London, police said.
Officers were called at 00:30 GMT to reports of a leak in St Andrews Road caused by road maintenance work.
The town centre was closed to traffic and pedestrians and Enfield Town train station was also shut.
At 06:00 police said the station had reopened but a cordon remained in St Andrews Road.
Residents were taken to Enfield Civic Centre where blankets and hot drinks were provided.
A spokeswoman for National Grid said the utility firm was carrying out resurfacing work when a planer clipped a gas valve.
No homes have been left without gas, she added.