Labour MP Nick Raynsford to stand down at next election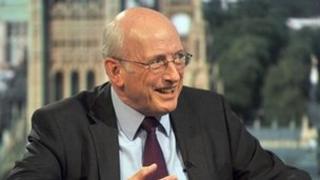 The Labour MP for Greenwich Nick Raynsford is standing down at next election, BBC London's political editor Tim Donovan has confirmed.
Mr Raynsford, who has been the MP for the south London borough since 1992, told the general committee for the local party he would stand down.
He was first elected as an MP in a 1986 by-election, in Fulham, west London.
As a minister in the last government he played a key role in creating the post of London Mayor.
Mr Raynsford was first elected to the Commons in a 1986 by-election, standing on a radical ticket of disarmament, nationalisation and scrapping private education.
He lost the seat in 1987, returning to the Commons in 1992.
The MP was responsible for piloting the massive Greater London Authority Act through the Commons, and announced an initial intention to seek Labour's candidacy for the London Mayor before stepping down to manage Frank Dobson's campaign.
As an expert on housing policy, he worked in the field for years before his election and initially found a post at the Department for the Environment, Transport and the Regions, where he was minister for planning and for London.