Housing fraud woman 'pursued for sub-let profits'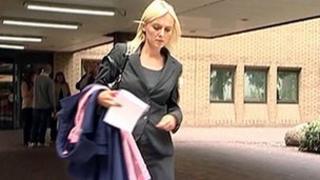 A woman who illegally sub-let her central London council flat will be pursued to return more than £10,000 after a local authority won a court order to recover her "profits".
Westminster Council has secured a court order to recover the money made by Kelly-Louise Goatley when she sub-let her flat.
She was given a suspended jail sentence in June 2012, at Southwark Crown Court.
It is the first time Westminster has won a court order to make a tenant pay.
Goatley, 30, was given her flat near Hyde Park by Westminster in 2000, having been deemed a priority need. She paid £440-a-month in rent.
'Selfish actions'
The court heard she sub-let the flat on at least two occasions, charging more than £1,400-a-month.
She was also paid housing benefit to pay rent on her flat between February and July 2010.
Goatley was jailed for nine months, suspended for two years and ordered to carry out 140 hours community service. She was also ordered to pay £2,000 in costs.
The fraud came to light when a whistleblower rang the council's fraud hotline in February 2011.
Councillor Jonathan Glanz, the council's cabinet member for housing and property, said: "Council properties are hard enough to find in Westminster and this woman deprived someone in real need through her selfish actions.
"This sentence and order to repay her profits send a clear signal that subletting a council property is criminal behaviour."