Construction drill came from site above rail tunnel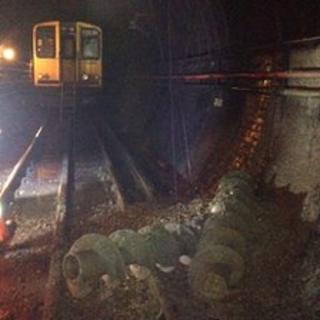 Sections of a drill which broke through the roof of a rail tunnel came from a construction site above the ground, accident investigators have found.
Staff spotted two broken parts near Old Street Station, east London, on 8 March after a passenger train driver reported water pouring on to the train's roof.
The metal drill parts, 2m (6.5ft) in length, were on the tracks.
Rail services on the busy First Capital Connect route were suspended for about three days as repairs were carried out.
A driver on the passenger train travelling from Moorgate to Welwyn Garden City reported muddy water pouring on to his train's roof near the station.
The broken sections were spotted by a manager and a driver onboard an empty train sent to inspect the site.
The Rail Accident Investigation Branch (RAIB) said the broken sections were part of an auger drill that had "penetrated the tunnel lining before falling on to the track".
"Immediate checks revealed that the augering operation was associated with construction activity on land about 13 metres (42ft) above the top of the tunnel," it added.
"The RAIB's investigation will include a review of the information that was available to those responsible for the safety of the construction activity and the way in which the risk created by construction activities near to railway tunnels is currently managed."