Life term for street cleaner Piotr Mikiewicz's murderer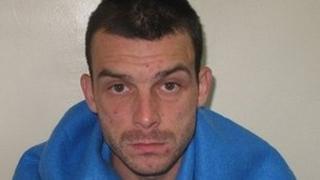 A man has been jailed for life for murdering a street cleaner in west London who confronted him after a burglar alarm went off in a house.
Roger Buckingham, 31, killed Piotr Mikiewicz, 40, who was stabbed in Rylett Road, Shepherd's Bush, in August.
Mr Mikiewicz hit the killer with his broom after seeing him coming out of a house where the alarm was sounding.
Buckingham, of Shepherd's Bush, was jailed for a minimum of 27 years.
The killer, who has 25 previous convictions for 51 offences, has admitted a charge of burglary and one count of theft.
'Brave and selfless'
The street cleaner, a Polish national, was stabbed in the chest, the Old Bailey heard.
The Recorder of London, Judge Brian Barker, said: "He was a brave man who acted beyond the call of duty.
"He ignored his own safety and he paid for his actions with his life."
The judge said Buckingham had acted "in frustration and temper", and added: "On any view, it was cowardly and selfish."
During the trial Aftab Jafferjee QC, prosecuting, said Mr Mikiewicz had shown a "laudable sense of civic duty" which had cost him his life.
In his defence Buckingham described it as a "terrible accident" adding: "I just tried to protect myself the best way I could".
In a statement the victim's wife, Busie Mikiewicz, described her husband as a "brave and selfless man who wasn't frightened to stand up for what he believed was right".
"Anyone who knew Piotr knew he was a truly good and honest person. He had a strong sense of what was right and wrong.
"He wasn't just a road sweeper, he was part of the community that genuinely cared for him.
"A cruel and thoughtless act can take away his life, but not the inspiration that he brought to so many people."