Amy Winehouse Camden statue: Plan to be considered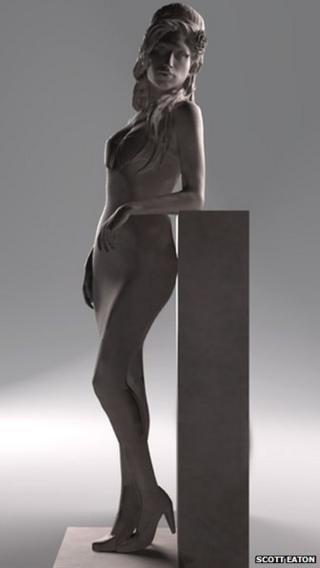 Plans have been submitted for a life-sized statue of Amy Winehouse to be placed in Camden, north-west London.
The proposal for a bronze memorial statue of the singer, who died in July 2011 aged 27, will be considered by Camden Council before 16 May.
The Scott Eaton design would be on the first floor terrace of the Roundhouse, overlooking Chalk Farm Road.
It would coincide with a disc for the singer being laid in a new Music Walk of Fame in Camden Town.
This September would have been her 30th birthday.
Mr Eaton said that the images submitted were of a work-in-progress digital maquette and that a wax version would be made next.
He said the digital technique was more commonly used in architecture than for art installations.
He added: "Fifty years from now people will remember Amy, and her music will stand the test of time. Hopefully the statue is a tribute to that."
Speaking about the statue, Amy's father Mitch Winehouse said: "I think she would have been over the moon.
"Long after you and I are gone, Amy will be remembered in a memorial on the streets."
Amy Winehouse sang Marvin Gaye's I Heard it Through the Grapevine with Paul Weller at the Roundhouse in 2006 as part of the BBC'S Electric Proms.