Trio to run 39 marathons in a month through eastern Europe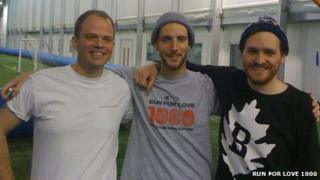 Three friends have begun a challenge to run in 39 marathons within 33 days through eastern European countries.
The challenge will see Tom Stancliffe and Guy Hacking, both from London, and Rob Martineau, from Oxford, cover 1,036 miles across nine countries.
The men - who are raising funds for the victims of child trafficking - have set off from Odessa in Ukraine carrying their supplies.
Their final race will be to Dubrovnik, Croatia, on 4 May.
All three will have to complete the challenge without medical aid or support.
Beginning with Ukraine, they will run through countries including Moldova, Romania, Bulgaria, Macedonia, Montenegro and Kosovo.
The men hope to raise £150,000 for the charity Love 146.
Mr Stancliffe, 27, a lawyer from Kennington, south London, said: "We will have to run through the pain barrier and can't slow down for sore knees, sprained ankles, severe blisters or stomach upsets."
Up to 200 people from 15 countries are expected to join them along the route.
Mr Martineau, 26, a travel writer from Jericho, Oxford, added: "It's going to be a great adventure for us and although we're all a little nervous about the challenge, we've trained hard and we're eager to hit the road."
Mr Hacking, 30, an investment manager from Brixton, south London, said: "Love146 are determined to end child trafficking. It's such an important cause and it's great to be able to support the charity's work."