London buses 'hit two pedestrians or cyclists a day'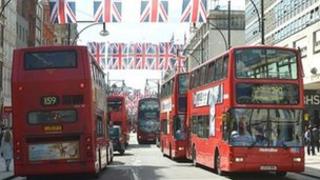 There are two incidents of buses hitting pedestrians or cyclists in London each day on average, figures show.
Buses have hit 3,591 pedestrians and 1,219 cyclists since 2007, Transport for London said.
It said the number of incidents was falling and only 5% of cycle collisions were "serious".
Conservative London Assembly Member Roger Evans said the figures were "shockingly high".
Mr Evans, who raised the issue of road safety in the London Assembly, urged TfL and the police to do more.
He said: "If any other organisation had a similar road safety record I think we would be asking many more tough questions."
The data was obtained through a Freedom of Information request made by Tom Kearney, a cyclist who suffered life-threatening injuries after being struck by a bus in Oxford Street in December 2009.
Punctured lungs
The entrepreneur, a US citizen who lives in London, was in a coma for two weeks after sustaining severe brain injuries and punctured lungs. He was in hospital for three months and said his injuries left him unable to work for two years.
Mr Kearney said: "The figure is very small for TfL because it did not happen to them, but it is very, very large for the families of those that have been killed and injured."
He said he wanted to see fewer buses in busy areas like the West End.
"The bendy bus that hit me was going at 20mph... the first thing it [TfL] could do is to slow the buses down. We need to reduce buses or pedestrianise most areas."
TfL's figures show in 2007-08 buses struck 860 pedestrians and 274 cyclists, while in the past financial year 449 incidents involving pedestrians and 107 with cyclists were reported.
London buses were also involved in 161 collisions with mopeds and motorbikes last year and in 2,365 instances the vehicles struck street furniture, a building or a tree.
Mike Weston, operations director of London Buses at TfL, said the figures were "very small" when compared with the six million journeys undertaken in London every day.
He said: "Bus operators are required to report all incidents to us and many of those highlighted are very minor with no injury at all."
He said TfL was not complacent and was trying to improve driving standards.