Luke Harwood death: Three guilty of playing field murder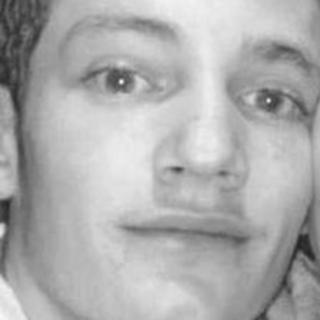 Two men and a woman have been found guilty of the murder of a teenager whose body was found in a playing field in east London.
Luke Harwood, 18, from Havering, was found near Broadmead Fields in Woodford Green in May last year.
The teenager had been beaten after an 18-year-old woman accused him of rape, the Old Bailey jury heard.
Emma Hall, 21, James Danby, 27 and Tony O'Toole, 30, all from Romford, had denied murder.
Following the verdicts, Mr Harwood's family said: "He was so young and had so much life left to live.
"He should still be alive to share his life with us and to be a father to his son, as well as his daughter whom he never met.
"Instead he was falsely accused of a crime he didn't commit and killed in the most violent way."
'Finished off'
The court heard the 18-year-old woman who accused the victim of rape had reported it to the police but she later withdrew the complaint.
The jury heard that while visiting friends in Romford, the teenager, who had gone there with Hall, found Mr Harwood staying at the house.
The victim was "severely" beaten before Hall drove O'Toole, Danby and Mr Harwood to a location near a stream where the victim could be "finished off", the court was told.
Simon Denison QC, prosecuting, told the trial: "They killed him by punching and kicking him and stamping on his head many, many times."
His body was dumped at the location. The killers then bought petrol and set fire to their clothes and cleaned the house.
Mutilation plan
The following day Hall drove the two other killers and another man to the location where they had hidden Mr Harwood's body under rubbish.
Mr Denison said: "They had with them knives and a pair of bolt-cutters that they were intending to use to mutilate his body to make it more difficult for him to be identified by cutting off his fingers and removing his teeth."
But Hall had secretly tipped off the police who were waiting at the location where the body was hidden, the jury heard.
Hall and Danby were also found guilty of causing grievous bodily harm with intent and perverting justice while O'Toole was also found guilty of perverting justice and conspiracy to pervert justice, along with Danby.
Billy Duggan, 21, was found guilty of perverting justice and conspiracy to pervert justice.
The jury cleared Jovan Roberts, 28, of murder and causing grievous bodily harm with intent, while Khalid Hassan, 20, was found not guilty of conspiracy to pervert the course of justice. They were discharged.
Following the verdict Det Ch Insp John Sandlin said: "The attack on Luke Harwood was unbelievably violent. The injuries he suffered were horrific, his face was unrecognisable.
"The defendants acted in the belief that the victim had previously attacked one of their number. The woman involved was in no way to blame for the extreme and sustained attack that they then carried out and subsequently tried to cover up: she could not have predicted what would happen."
Those convicted will be sentenced next week.