Margaret Thatcher 'lives on in every single woman'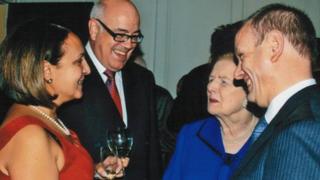 Baroness Thatcher's legacy remains clear in one part of her former parliamentary constituency in north London.
Finchley's Conservative Association is based in Margaret Thatcher House - and she is fondly remembered there.
Association chairwoman Jill Summers said: "Her spirit is very much in this building.
"She has left the most enormous legacy and changed the country for the better.
"Politically, she was caring, kind and forgiving and a fine MP for the constituency."
Mrs Summers was reacting to news that Baroness Thatcher has died "peacefully" at the age of 87 after suffering a stroke.
Mrs Thatcher was elected MP for Finchley in 1959 and remained in position until 1990.
Her former constituency has since been replaced by Finchley & Golders Green and Chipping Barnet.
Tessa Phillips, who was secretary to the agent in Finchley between 1977 and 2010 said Lady Thatcher was "a lovely person to work for".
"You could really talk to her," she said. "She was very good at explaining.
"If I didn't understand something, she would explain it simply."
"She was extremely nice, friendly and down to earth."
Conservative MEP Marina Yannakoudakis, who is from Barnet, said: "I feel she lives on in every single woman of my generation.
"She opened the door for women in politics. Many of my friends went into politics because of her.
"We will be carrying on her flame in the way we work."
Ms Yannakoudakis said the advice she was given by Lady Thatcher was "go in there and say it as it is".
"You have to be strong when you're going into negotiations," she added.
Conservative MP for Finchley and Golders Green Mike Freer said it was Lady Thatcher that inspired him to go into politics.
"When I first heard her speak, I was spellbound," he said.
"She brought me into politics and remains an inspiration to this day.
"When I was a local councillor, I saw her ability to talk to Gorbachev one minute, then Mrs Smith from the local estate the next."
Barnet Council leader Richard Cornelius said Lady Thatcher was "a dominant figure" in Barnet politics "for my generation".
"It should be noted just how unusual a woman MP was when she was first selected as a candidate for Finchley in 1959 and how hard she had to work to prove herself as an MP over the next decade."