Girl, 11, tells of Jubilee Park rape ordeal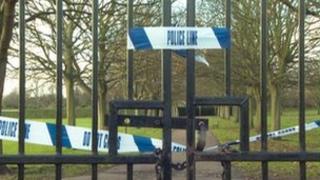 An 11-year-old girl was dragged into a park in north London and repeatedly raped by a youth who threatened to stab her, a jury has heard.
The Old Bailey was told the girl was walking home when she was forced into Jubilee Park in Enfield last November.
She said the youth warned her "stop moving or I will stab you" and subjected her to a three-hour ordeal.
Opemipo Jaji, 18, of Edmonton, north London, denies rape, claiming he is a victim of mistaken identity.
The jury was shown a recording of the girl's interview with the police.
'Filming threat'
She said she was walking along Galliard Road when she was dragged into Jubilee Park and repeatedly raped.
The girl said: "I tried to run away but then he grabbed me when I got to the pavement of the park entrance.
"I kept on saying 'stop' because it was hurting me and he kept saying 'shut up' to me.
"When I was on the floor, he said he would film me and send it into my school.
"I was saying 'Get off me, get off me, stop'."
She said he told her: "I am this close to killing you."
'Going to die'
Later, the girl answered questions for 30 minutes via videolink before a statement from her father was read out.
He described how he held her tight when she arrived home after the attack.
He added that she said the rapist had put gloves in her mouth during the abuse.
"She found it hard to breathe and said she thought she was going to die," the statement added.
The court heard the defendant had "an interest in pre-pubescent girls" and had previously admitted sexually assaulting and robbing another girl dressed in her school uniform.
Mr Jaji was arrested on suspicion of raping the girl a few days after she was attacked following a review of CCTV evidence.
The court heard when his bedroom was searched a book about a little girl being sexually assaulted was found.
The trial continues.