Opemipo Jaji 'stash of evidence' in rape of girl, 11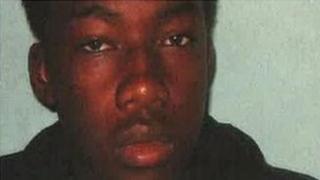 A stash of evidence was uncovered in the bedroom of "sexual predator" Opemipo Jaji when police went to arrest him on suspicion of raping an 11-year-old girl.
A paperback called Nobody Cared, about a young girl who was sexually abused, lay on his bed, a picture of a seven-year-old girl was on his wall and a six-week old copy of the Metro newspaper, which detailed the disappearance of April Jones, was found.
The prosecution team at the Old Bailey said this proved his "sexual interest in very young girls".
Jaji, an 18-year-old from Edmonton, was found guilty of rape after attacking a girl in Jubilee Park, Enfield, in November after she stepped off her school bus.
'I ran'
Unbeknown to the girl, who cannot be named for legal reasons, Jaji was also on the bus - a fact he never denied - and began to follow her.
She told police: "I saw the man and he was in front of me. Then I crossed the road.
"I walked fast so I could get ahead of him and crossed the road again. He was behind me and I crossed the road again for a third time.
"He started following again so I ran."
Jaji grabbed the girl, shoved a glove in her mouth and kept her in a secluded part of the park while he attacked her.
At one point a dog walker passed by but Jaji ordered the girl to crouch down and "stop moving or I'll stab you".
He also threatened to send naked images of her to her school friends if she did not do what he wanted.
At home her parents were frantic with worry, having expected their daughter home by 17:00 GMT.
It was not until about 20:00 that Jaji told the girl, "If I were you, I'd run" and she arrived home "dishevelled, dirty and panicky".
During medical examinations, including one under general anaesthetic, she was found to have "bruising, swelling and tearing".
The Metropolitan Police found traces of the girl's blood about 150 yards (137m) from the park entrance.
They used telephone analysis to place Jaji at the park after he sent a text message during the attack.
'Manipulative sexual predator'
CCTV footage showed him on a bus returning from college and later at a youth club but he featured on no security recordings during the hours of the assault.
Officers who went to Jaji's home to arrest him noted that he kept cracking his knuckles, something the 11-year-old had told police he did during the three-hour ordeal.
Det Ch Insp Adam Lowe, said: "Jaji posed a great danger to young girls and, despite the great weight of evidence against him, refused to accept his guilt and forced the victim to give evidence in court."
During his trial at the Old Bailey Jaji vehemently denied his involvement in the "despicable and heartless" attack, but the jury was also told about his previous conviction.
He admitted robbery and assault in 2011 of a young girl who had her school tie shoved in her mouth.
Rosina Cottage QC, summed Jaji up as a "deliberate and manipulative sexual predator".
She said: "[He] brutally terrified and raped her and then casually went to youth club... while she was being taken to hospital."