Baby P case: Jason Owen returned to prison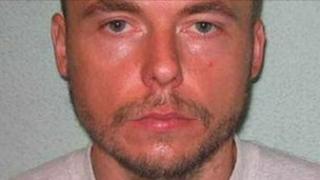 A man jailed over the death of Baby P has been returned to prison for breaching conditions of his release.
Jason Owen from Bromley, south-east London, was sentenced to six years in prison for causing or allowing the death of 17-month-old Peter Connelly.
Owen, his brother Steven Barker and Peter's mother Tracey Connelly were jailed following Peter's death in 2007.
The Ministry of Justice has not yet released the circumstances surrounding Owen's recall.
Fifty injuries
Peter was 17 months old when he died on August 3 2007.
He was found dead in a blood-stained cot with more than 50 injuries, despite being on the at-risk register and receiving 60 visits from social workers, police and health professionals over eight months.
In 2009 Connelly was jailed after admitting causing or allowing Peter's death.
Barker and Owen were found guilty at the Old Bailey of the same charge.
Owen was given an indeterminate sentence with a minimum term of three years but he later challenged this and was given a six-year jail term instead.
Strict conditions
He was released on parole in August 2011, halfway through his jail term, with the 289 days he spent in custody before sentencing being taken into account.
The Ministry of Justice said: "Offenders released on licence are subject to a strict set of conditions and controls.
"If they fail to comply with their licence conditions, they are liable to be returned to custody."
Owen, who had been freed under licence conditions, was sent back to prison before Christmas.
A parole board review concluded he should remain in custody until his situation is reassessed in December.
Sentencing rules state that if an offender is sent back to jail they can be detained in custody for the remainder of their sentence, if it is considered unsafe to release them.