Hounslow man jailed for slashing women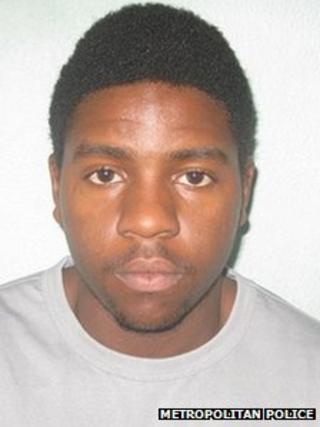 A man who slashed two women in separate random attacks in west London has been jailed for 18 years.
Sasha Masamba, of Nicholes Road, Hounslow, had pleaded guilty at the Old Bailey to two offences of wounding with intent to cause grievous bodily harm.
Kaja Zablocka, 19, and Deserilyn Aurelio, 26, were slashed from behind and needed stitches in what the judge said were "devastating" attacks.
Masamba, 20, carried out the attacks in Hounslow in August.
'Every woman's nightmare'
The Recorder of London, Judge Brian Barker, said: "This is a most disturbing case.
"Noticeably, there was no request for money or sexual intent. The deep concern is a lack of any rational explanation for these acts.
"The victims could easily have died because the knife wounds were near arteries."
The Old Bailey heard that, over 10 days in August, Masamba prowled the area around Hounslow station and on two occasions slashed women late at night.
Prosecutor, Bobbie Cheema, QC, told the court: "This defendant is every woman's nightmare - a man who arms himself with a knife and then prowls around late at night waiting for a lone female to attack."
The court heard that university student Miss Zablocka was attacked at about midnight on 7 August after spending the evening with friends, two weeks after arriving in Britain.
Masamba grabbed her throat and said: "Sorry, I am only joking."
Miss Zablocka said she only realised she had been cut when she felt dizzy and fell to her knees.
On 17 August, Masamba attacked Miss Aurelio as she returned from waitressing and tried to stab her twice in the stomach as she fought him off.
Miss Cheema told the court that days later, Masamba posted threats on Facebook saying: "I want to bite your ears off, pluck your eyes with chopsticks, cut your limbs with a breadknife and feed your insides to sewer rats."
After the conviction, Det Ch Insp Amanda Hargreaves, said: "Masamba was caught before he potentially killed someone, which I believe was only a matter of time."
Masamba was said to have written to the judge saying he hated himself for what he had done.