Lady Thatcher: Trafalgar Square protest sees 16 held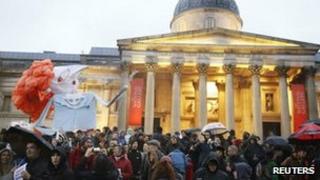 Sixteen people were arrested during a demonstration in Trafalgar Square against Baroness Thatcher's legacy.
BBC correspondent Tom Symonds, who was at the protest, said 2-3,000 people were there on Saturday night.
Members of the National Union of Mineworkers (NUM) and UK Uncut were among those who took part.
The Met said people aged between 18 and 44 were arrested for offences including affray, drunk and disorderly and assault on police.
The force added that most of those arrested remained in police custody.
'Terrible woman'
A police spokesman said the last of the protesters left at about 02:00 BST and there were no reports of any damage to property.
One protester, drinking from a mug that read "I still hate Thatcher", said the event - initially planned by now defunct anarchist group Class War - had been years in the planning.
The 49-year-old, who gave his name only as Steve, said: "I believe it's something not to be celebrated, but something that needs to be marked in history."
Former miner Dave Douglas from Newcastle, part of the delegation from the miners' union, said Lady Thatcher was a "terrible woman".
"In the north of England, in Scotland, Wales and the Midlands, people are celebrating the fact she's gone because we don't support what she did to our community, our industry and our unions."