Girl rape accused was in Jubilee Park 'composing music'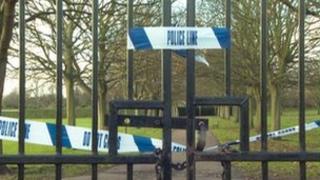 An 18-year-old man accused of raping an 11-year-old girl in a north London park says he went there to compose music for a song, the Old Bailey heard.
Opemipo Jaji, of Edmonton, denies raping the girl who was dragged into Jubilee Park in Enfield in November.
The trainee chef said he was on the same bus as her and handed her back her travel card when it fell on the floor.
Denying he was the attacker he said: "I am just not capable of doing something as despicable and heartless as this".
Traces of her blood were found on his bag and trainers, the court heard.
He says they were from sitting on the grass in the park.
He said he was at a youth club working on a song and went to the park later that evening.
'Childhood stupidity'
"I wrote the song after I heard a girl killed herself from bullying. I wrote the song hoping things would get better," he said.
Previously the court heard the girl was raped repeatedly over three-hours.
The jury also heard the defendant was convicted of sexually assaulting a schoolgirl a year earlier.
Giving evidence Mr Jaji said: "It was just childhood stupidity. Since I've been in prison and out, I've been forced to grow up.
"Since then I have sorted myself out. I got an apprenticeship as a chef. I was two weeks from starting my own catering business."
He also said he was due to appear on the BBC television show The Voice.
The trial continues.