South Tottenham gun victim pleads with family to let him in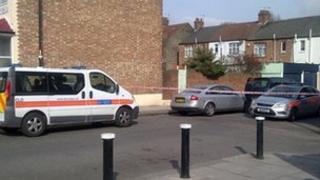 A gun victim trying to get away from his attackers traumatised a young family by banging on the door of their London home to get in.
The 20-year-old was being pursued by up to six people after being shot in South Tottenham, at about 04:30 BST.
He screamed "Let me in", while banging on a window with a dustbin lid, the family said.
The couple, whose six children are aged between one and ten, let the man in as they called emergency services.
The woman, who did not want to be named, said that after letting the victim in his pursuers tried to break into the house but ran off when they failed.
'Caught in crossfire'
"We were woken up to noises which we thought were fireworks in the park but then there was a man screaming 'Let me in' and banging our dining room window with a bin lid," she said, adding that they had never met the man before.
"We went downstairs and shouted 'Who is it, who is it' and he said 'I'm wounded, let me in'," she said.
"I'm really distressed - we're just caught in a crossfire."
Her husband said as he was walking down the stairs, he thought: "I think they're going to kill my wife.
"I was scared. Me, I don't mind - I can fight, but my wife and children - no."
The Met said the victim has serious injuries and is in a stable condition.
It said the incident was being investigated by the Trident shootings team. Officers are appealing for witnesses as at this stage, they do not know if any suspects arrived or left the scene on a vehicle.
A spokeswoman from London Ambulance Service confirmed the shot man was taken to hospital as a "priority", after finding him at the family's house.