Ruislip deaths: 'Chemicals' killed woman and children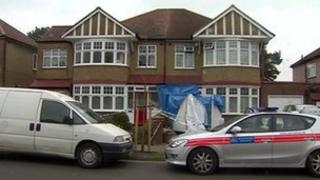 A mother and her two children died from an apparent chemical poisoning, an inquest has heard.
Laboratory technician Heena Solanki, 34, and daughters Jasmin, nine, and Prisha, four, were found in the bedroom of their homes in Ruislip, west London.
Her husband, Kalpesh Solanki, found them when he returned home from work at 18:40 BST on 12 April.
Det Insp Sarah McConnell said three glass bottles containing a chemical mixture were taken from the scene.
The investigating officer also told West London Coroners Court: "Also present was a note which appears to be from Heena, and addressed to her husband."
Those who died were last seen alive that morning, by Mr Solanki.
Ms McConnell added that post-mortem examinations had been conducted and cause of death was awaited, as were toxicology results.
Asked by the coroner, Jeremy Chipperfield who is the assistant deputy coroner for west London, if police were seeking anyone else, Ms McConnell said: "Not at this time, no."
Mr Chipperfield adjourned the inquests to a date to be fixed, pending further investigations.