London teenager gets mobile app-controlled 'bionic arm'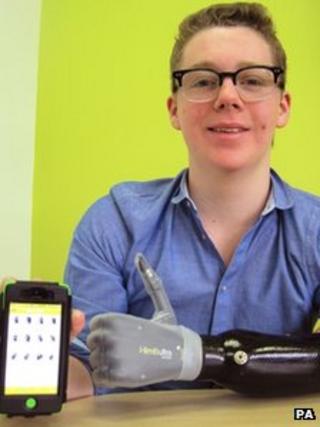 A teenager has become the first person in the UK to be fitted with a bionic arm which can be controlled by a mobile phone app.
Patrick Kane, 16, from London, who lost his left arm and right leg to meningitis as a baby, said the new i-limb was "priceless".
The biosim app gives users of i-limb 24 pre-programmed hand positions.
Users can control the movements by choosing hand positions using the app, or by contracting muscles.
Patrick has been using a previous version of i-limb, developed by Touch Bionics, since 2010. He said the new version provided more movement in the thumb.
Visiting the firm's headquarters in Livingston, West Lothian, Patrick said: "Previously, I would have to say 'excuse me, would you mind if you tied my shoe lace for me?'
"I am still very good if I am not wearing the arm but it gives me that extra level and now I can really do anything that I want with it.
"It will allow me to do things that I could do previously but quicker, more efficiently and more fluidly."
The i-limb is placed over his arm and two sensors, located over muscles, read the contraction of those muscles. This allows Patrick to control the movement of the arm and the thumb, which previously had to be moved manually by the other arm.
The "powered rotation" of the thumb allows it to turn automatically when directed by the phone app or muscle contraction.
Patrick said he "couldn't stand" having to wear a prosthetic arm but the bionic arm was different.
"If anything I love talking about it to people. It stands out and I don't want it to blend in because I'm quite proud of it."
Ian Stevens, chief executive of Touch Bionics, said the technology gave users extra "unparalleled dexterity and control".
He added that it enabled wearers to "more easily perform activities of daily living and thus increase their quality of life".