South Tottenham shooting witness 'scared for family'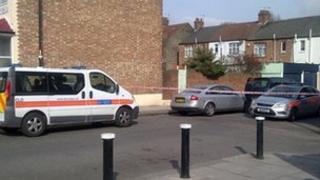 A woman who helped a man who had been shot says she is scared for her family's safety as the police are "not interested" in helping her.
Rachel Bublil, 30, who has six children, helped the man after he banged on her door in South Tottenham, north London, early on Monday.
She said she had no connection with the man, but hooded men had since come to the house and she was being ostracised.
The force said officers had visited her and were giving her support.
The police have given her a panic alarm and will pay off her rental contract if she decides to move, she said.
'Caught in crossfire'
Mrs Bublil and her husband let the man into their home because he was banging on the house with a dustbin lid, saying he was being chased.
His pursuers then tried to break in, but ran off when they failed.
The couple called the police and the wounded man was taken to hospital.
Mrs Bublil said: "I'm really distressed - we're just caught in a crossfire."
She said the family had not even seen the man before.
'Ruining us'
But at midnight on Tuesday three hooded men banged on her door and then ran away.
She said she had had little contact with the police since the shooting and said she had been told she was a "little piece in a huge puzzle".
Mrs Bublil said the police had told her they could not help her move her family, despite the offer of the rental payment.
She said she had to do all the chasing to get support and was unable to sleep through worry.
"It's ruining us," she said.
"Nobody cares about people like us who have to pick up the pieces.
"I'm concerned for my children and our friends don't want to go near us."
People had said they would no longer come to a planned gathering at her house on Saturday, she said.
Mrs Bublil had also been told her daughter should not go to a birthday party on Sunday as she would "ruin the atmosphere".
"I'm really scared," she said.
In a statement, the Metropolitan Police said: "Officers visited the woman at her home address to listen to any concerns she had.
"The officers were able to offer support and reassurance to the woman and made themselves available should she have any further concerns."