Cutty Sark visitors 'more than double' after £50m restoration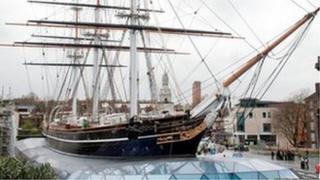 Visitor numbers to the Cutty Sark in Greenwich have "more than doubled" since it underwent a £50m restoration.
The clipper, built in 1869, which reopened a year ago, saw annual visitor numbers increase from 140,000 to more than 350,000, Royal Museums Greenwich, which runs the attraction, said.
Curator Jessica Lewis said it was given a boost with the Olympic Games, but it was hoped about 300,000 people would visit it annually.
She said: "It's been very exciting."
50-year plan
As part of the restoration visitors are able to walk under the three-masted ship as well as go on board and learn about its history in the museum.
Ms Lewis said: "We've had a lot of visitors who are coming back to the ship curious to see what we've done and lots of people who before might have just walked past are now encouraged to come on board."
The ship was closed to the public in 2006 after it was considered "structurally in danger" and refurbished following a fire on 21 May 2007 which swept through it.
Ms Lewis added: "We also need to create a sustainable future for the ship and having lots of visitors on board is crucial to securing it.
"The proposals and the solutions we've come up with will secure her for the next 50 years, with major work taking place 50 years hence.
"With a historic structure we need to start saving from day one."
The Cutty Sark Trust, which received funding from the Department for Culture, Media and Sport and the Heritage Lottery Fund, as well as donations from the public, aims to present the tea clipper as it would have looked when it was launched in 1872.